I heard about an article written by ESPN about the MSU/U of M rivalry; the article being written after an interview with Wayne Copeland, our village president. You can see the article by clicking here, but I have also copied and pasted it for a read here.
A tale of green and blue
Fowlerville MSU fans enjoy friendly wager with former U-M baseball star
FOWLERVILLE, Mich. -- Before freeways were built across Michigan, the only way to get from East Lansing to Ann Arbor on rivalry game days was via Grand River Avenue, a two-lane dirt road. On those days, traffic would be backed up for miles by 8 a.m., as fans piled into cars and inched their way along.
[+] Enlarge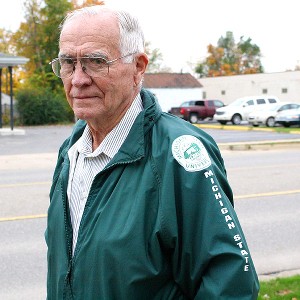 Chantel Jennings/ESPN.comWayne Copeland grew up a Michigan State fan and played football at Fowlerville High for a former Spartan.
In the 1940s, grade-school students Wayne Copeland and Frank Utter would sit in downtown Fowlerville -- the midway point between the cities -- making bets on how many cars would make it through the single stoplight when it turned green.
Seventy years later, Fowlerville, population 2,886 according to the 2010 census, is still split. The flags outside of homes alternate between maize and green. License plates sport a Spartan or block "M." Fowlerville High School students wear more maize or green to school, despite the school's color being purple. Michigan parents jest, saying Fowlerville's mascot -- a gladiator -- is far too close in relation to a Spartan.
Even in death the townsfolk carry on the rivalry. In the Greenwood Cemetery some headstones are adorned with maize and blue flowers while others have green and white pinwheels.
But Copeland and Utter were never split in their devotion. Both men were longtime Spartans fans. It wasn't something that could ever change their friendship with Scott Weaver, a former Michigan baseball player who was dyed in maize and blue.
As the men aged and time weighed on their bodies, they were referred to Weaver, owner of Michigan Rehab Specialists, by different physicians. It was Copeland's sciatica that brought him there first; Utter's ALS diagnosis resulted in him turning to Weaver for relief.
No matter how the men were feeling physically, they were sharp mentally and never short on wit. They badgered Weaver about the Wolverines baseball, hockey and football uniforms that hung from the walls of his practice. Copeland and Utter always mocked the Michigan "Carpe Diem" poster that hung over the main entrance -- they were old, but they knew how to seize a day better than any Wolverines fan.
So in 2008 the elders approached Weaver, some 40-odd years their junior, with a simple bet.
"They said they'd wear my University of Michigan jacket around town if Michigan won," said Weaver, the 1995 Big Ten Player of the Year. "But if Michigan State won, I'd have to hang an MSU flag above my door."
Easy enough, Weaver thought, he'd enjoy seeing the old men cringe wearing his coat. Copeland, the village president, would have to wear it to the weekly council meeting. But Weaver didn't know how the tides would turn for the in-state rivalry, no idea his Wolverines would go winless against the Spartans for the next four years.
The Michigan State football team was able to establish a reign of power. Meanwhile, Utter's body continued to fail him. At first, no one had known the difference. To an outsider he was still a father of four, grandfather of seven, a husband to Ann and a Spartans fan. But after the Michigan-Michigan State game in 2011, Utter began to show signs. He spent more time inside, watching sports.
"At the end, that was really all he could do, watch TV," Ann said.
He remained a fan with Copeland; the ALS couldn't take that. Ann would hear him yelling over the TV into the phone, "Wayne, what is Dantonio doing? What is he doing?"
[+] Enlarge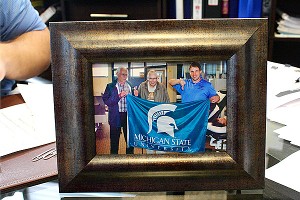 Chantel Jennings/ESPN.comScott Weaver has a photo on the desk in his office of him with Wayne Copeland and Frank Utter.
But for four consecutive seasons, MSU coach Mark Dantonio pleased Utter and Copeland. For four consecutive seasons, they've walked into Weaver's practice with Spartans flags. For four consecutive seasons, the two have kept the city divided as best they could.
By the start of this season, ALS had taken nearly everything from Utter, but he kept watching. He saw the Spartans' 2-0 start before passing away Sept. 11, missing MSU's losses to Ohio State, Notre Dame and Iowa.
"He was lucky not to see that," Copeland said. "He hated seeing them lose. Just hated it."
Copeland has analyzed this year's rivalry game, and he thinks Saturday might be another day Utter would hate. Copeland likes Denard Robinson, likes Brady Hoke, likes Michigan's chances against Michigan State. He knows Utter would chastise him for even thinking such things.
And Weaver agrees -- this year might be the Wolverines' year. He sent his varsity coat to the dry cleaners last weekend to make sure it would be ready for Copeland. Undoubtedly, it'll be different this year no matter what happens. Utter won't be there to rub in a win or sulk from a loss. And if Michigan wins, Weaver might feel sorry for Copeland as he gives him his coat. It might feel like piling on just a month after Copeland lost his best friend.
At 78, Copeland jokes that he has seen it all, been around forever. He has watched the traffic stand still on Grand River Avenue before Interstate 96 existed. He has seen Michigan State wins and losses. He has seen friends come and go, sometimes forever.
But there's one thing he never saw and never will: Utter as a Michigan fan.
"I guess if there's one good thing for Frank not being here now," Copeland said with a coy smile, "it's that he'll never have to suffer the humiliation of wearing a Michigan jacket."
But a bet is a bet and Copeland will uphold his word. He's just hoping he won't have to.